Software
VistaSoft Monitor – IoT solution for the networked practice
Real-time equipment monitoring system for the dental practice: A clear view of everything with VistaSoft Monitor
With the new IoT solution VistaSoft Monitor, DÜRR DENTAL brings the cloud into the dental practice. Intelligent, forward-looking and always keeping an eye on the reliable operation of the dental practice. In everyday practice, the focus is on your own work and the patient. All the systems needed for this must function smoothly and reliably. With VistaSoft Monitor, you always have your important devices in view. The IoT solution can optionally communicate directly with the service of the participating dealers and thus enables quick action.
Full access to all the essential information – wherever you are
With the IoT solution for dental practices, you can now monitor your equipment anytime and anywhere. Whether via PC or mobile, you always have your practice conveniently in view.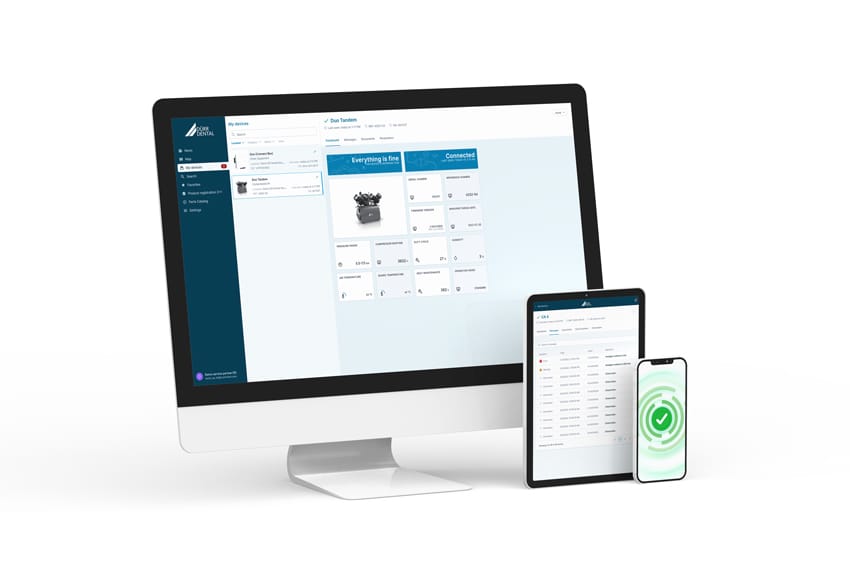 Avoid problems in advance and maximise operational reliability
Dental supply systems from DÜRR DENTAL normally run reliably. In the event of a failure, however, the entire practice would come to a standstill. That is why the practice team continuously monitors their status by visual and manual inspection. VistaSoft Monitor now makes it easier for you. With the help of the cloud-based IoT application, you can check the status of your practice equipment anywhere and at any time. If action is required, you will immediately receive a warning (signal colour: orange), otherwise you can sit back and relax: "Everything is fine" (signal colour: blue).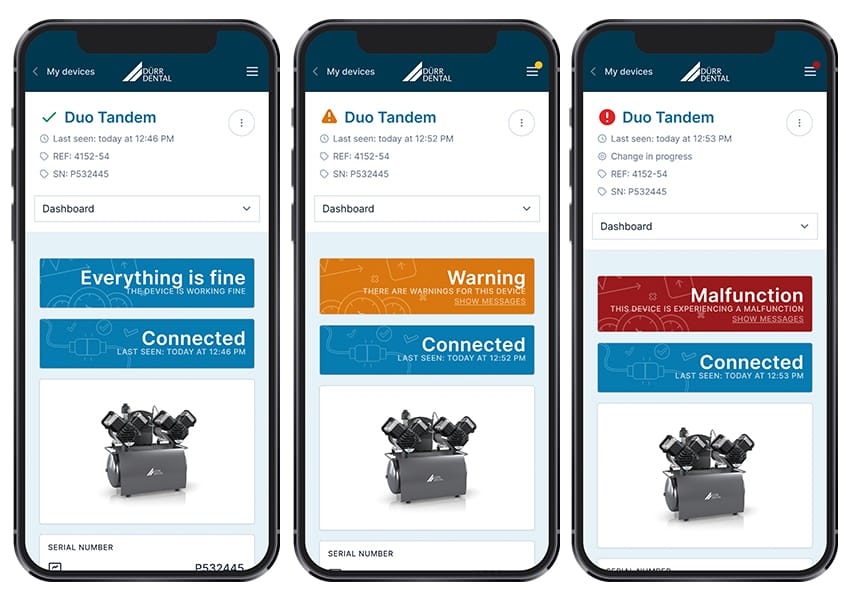 Relaxed view of all inspections
Based on actual usage, a maintenance manager reminds you of important inspections. This helps you maintain the value and reliability of your connected equipment.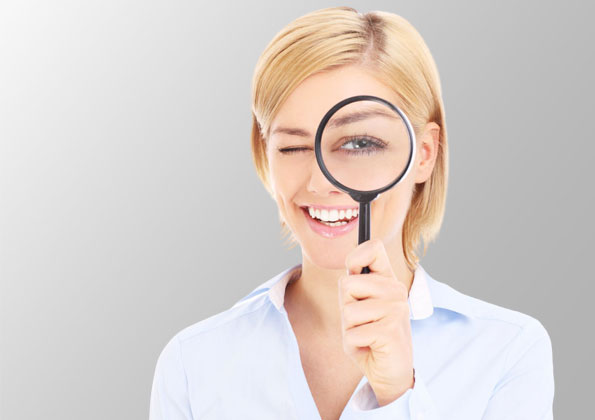 More time for patients
As an option, you can also take out a service agreement for your devices with a participating dealer. Warning messages are then also sent directly to the technical support of your dealer. They will take action themselves and rectify the incident by remote maintenance or contact you. This will leave you free to concentrate 100% on your patients.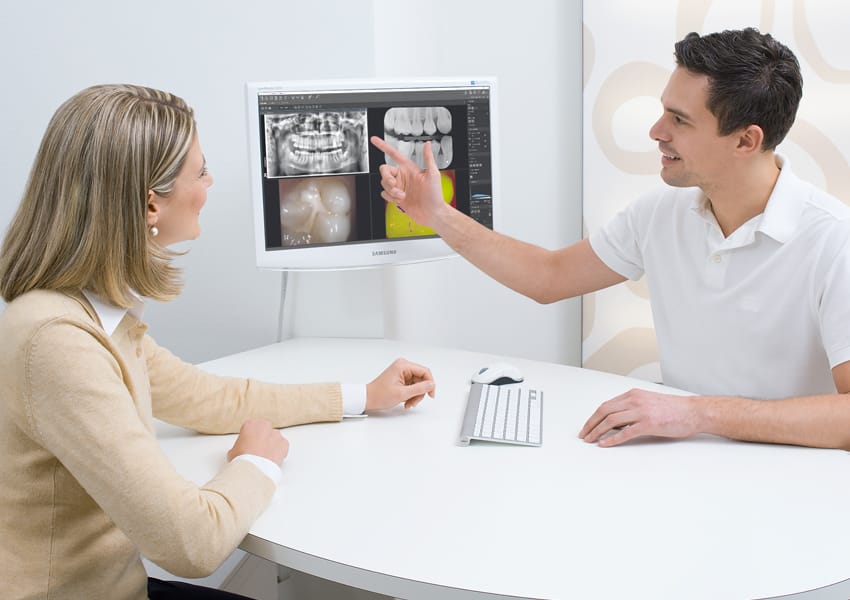 Data security
Your data belongs to you - and you alone choose who can see and use the information on your devices in the cloud. We support this with encryption according to the highest international standards.
Connect the entire practice
With a Connect Box, you can add devices from other manufacturers or equipment that is not network-capable to your VistaSoft Monitor account for basic monitoring of the most important operating parameters.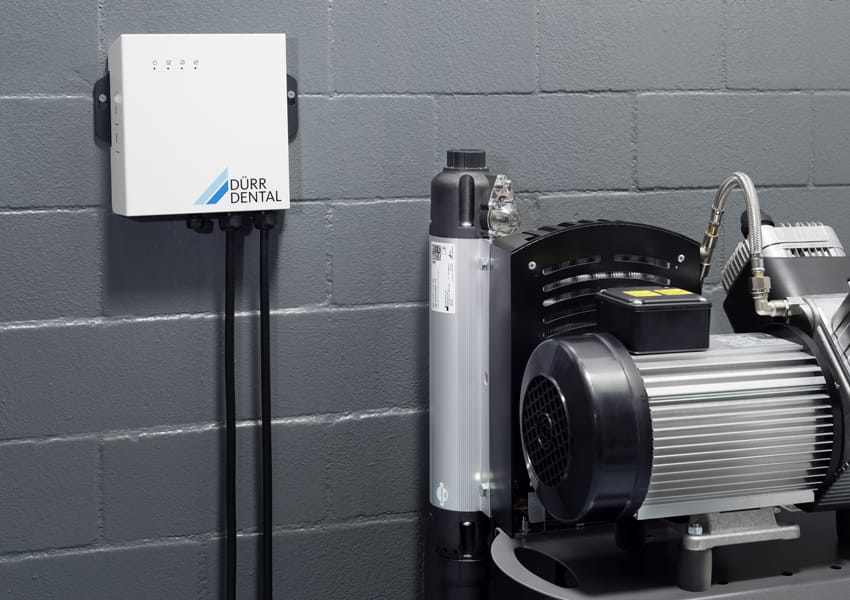 VistaSoft Monitor
Start for free
As a customer of DÜRR DENTAL, you can network your devices quickly and easily. Start now with the IoT solution for the dental practice. Register now and get started free of charge!
More
Supported devices
Directly networkable devices
| Compressed air | Suction | Hygiene | Amalgam separator | Power Tower | VistaScan image plate scanners |
| --- | --- | --- | --- | --- | --- |
| Tornado 2+ | Tyscor V 1 & VS 1 | Hygosuc | CAS 1 | PTS 200/42 | VistaScan Mini View 2.0 |
| Duo Tandem | Tyscor V 2 & VS 2 | Hygopac View | CA 1 | Power Tower View | VistaScan Mini Easy 2.0 |
| Quattro Tandem | Tyscor V 4 & VS 4 | Hygoclave 50 Plus | CA 2 | | VistaScan Mini View |
| Quattro P20 | VSA 300 S | | CA 4 | | VistaScan Mini Easy |
| | V 20 & V 30 | | | | VistaScan Combi View |
| | | | | | VistaScan Ultra View |
| | | | | | VistaScan Nano Easy |