Software
Imaging Software – the heart of your digital practice
Simple, intuitive and tailored to your needs
From acquiring and editing digital X-ray images and camera images to sharing images via the cloud and planning implants and drill templates – VistaSoft brings together all of the different threads of dental imaging. The one-click principle and the ergonomic design optimised for professional diagnostics offer you the best possible support in your practice day in, day out. DBSWIN and VistaSoft are network capable and compatible for use with digital X-ray systems and intraoral cameras from DÜRR DENTAL. You can even integrate third-party units via a TWAIN interface.
VistaSoft AI inklusive
With the VistaSoft package you will gain access to powerful AI features that will not only make your day-to-day work in the practice noticeably more effective.
More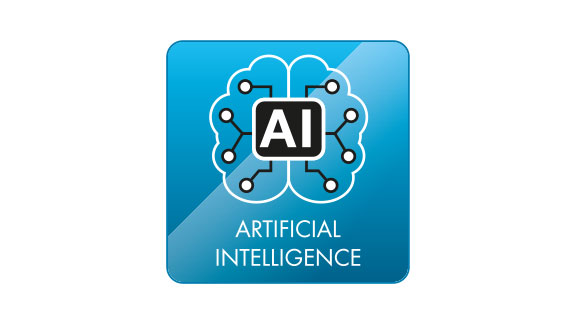 VistaSoft X-ray
The VistaSoft X-ray module is compatible with all current X-ray and scanner systems from DÜRR DENTAL. The software enables fast and reliable use of digital X-ray systems with highest image quality. Use the Endo, Caries and Perio digital filter functions as diagnostic aids to adjust the contrast and sharpness of your X-ray images so that the images reveal more diagnostic information.
Automatic dose detection
The automatic calculation of the incident dose at the image receiver integrates seamlessly into the AI workflow and ensures that all the necessary data is automatically documented.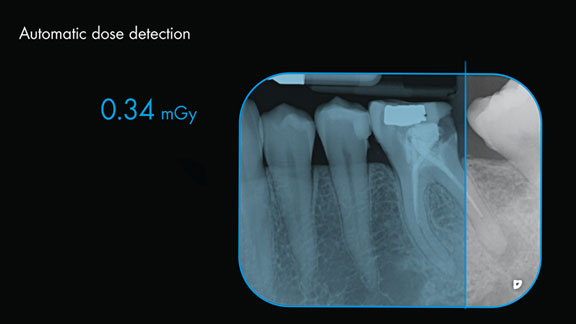 VistaSoft 3D
VistaSoft 3D offers different views for your diagnosis of CBCT images: pano views, transversal layer images (TSA) and multiplanar reconstruction (MPR). These can be rotated and tilted for perfect alignment. In the process, a "navigation head" always displays the current position so that orientation is much easier. The rendered OPG view provides you with even more assistance when navigating the 3D volume. The panorama curve required for this is automatically positioned by VistaSoft . Selection of the correct implant is facilitated by the easy process of drawing the nerve canal in the image.

VistaSoft Inspect
Safety first. This is why VistaSoft Inspect allows you to perform monitor tests, acceptance tests and consistency checks very easily. In addition, VistaSoft Inspect also offers the opportunity to continuously check the condition of your image plates with the aid of the image plate quality check*. This will help you to ensure that the exceptional quality of the Dürr Dental systems is continuously monitored and maintained.
VistaSoft Video
Start, view, edit: with VistaSoft you can easily control all current camera systems from DÜRR DENTAL. Here, alongside intraoral, extraoral and macro X-ray images, you also have access to additional functions to help you with your diagnosis. The Proof function can be used for reliable detection of caries and plaque. The Proxi function will help you with the diagnosis of approximal caries.
VistaSoft DICOM
Diagnostic exchange, interdisciplinary assessment of findings, co-treatment by colleagues: with the DICOM interface from VistaSoft you can very easily receive patient data from DICOM systems and send images to DICOM systems. VistaSoft supports DICOM Modality Worklist for receiving order data and DICOM Storage for sending images.
3D images without CBCT
The package comes with a full 2D and 3D X-ray licence for VistaSoft, which allows you to view 2D and 3D image data and perform diagnosis – with no need for a dedicated CBCT device in the case of 3D images. Numerous interfaces are provided for effortless connection to software solutions from third-party providers to allow seamless integration in your existing practice management system.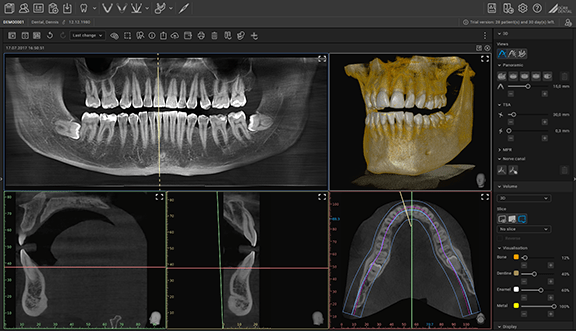 VistaSoft Implant & Guide – User-friendly implant planning
With VistaSoft Implant, you have access to a state-of-the-art tool for complete pre-surgical implant planning. You can complete all aspects of backward planning – from crown to actual implant. A guided workflow leads you through the software and ensures simple and understandable planning, The resulting planning data is saved as an open source STL file, which you can then forward e.g. to a laboratory together with an automatically generated report. VistaSoft Guide enables you to plan different types of drill template. As is standard for DÜRR DENTAL, all data is saved in the form of open source STL files, making it compatible for downstream processing on any platform.
SICAT
Through its cooperation with SICAT, DÜRR DENTAL has been able to stay faithful to its philosophy of helping dental practices prepare themselves for the future with improved workflows in their day-to-day operations. Customers of both companies benefit, because CEREC-based implant planning data can now also be produced with DÜRR DENTAL X-ray units. For more than a decade, SICAT has supplied application-oriented applications with innovative solutions for many specialist areas of digital dentistry. With SICAT Implant 2.0 your implant planning is now even easier and faster. You can order SICAT drill templates directly from the software to put your implant plans straight into practice with the world's only solution for CEREC Guide planning.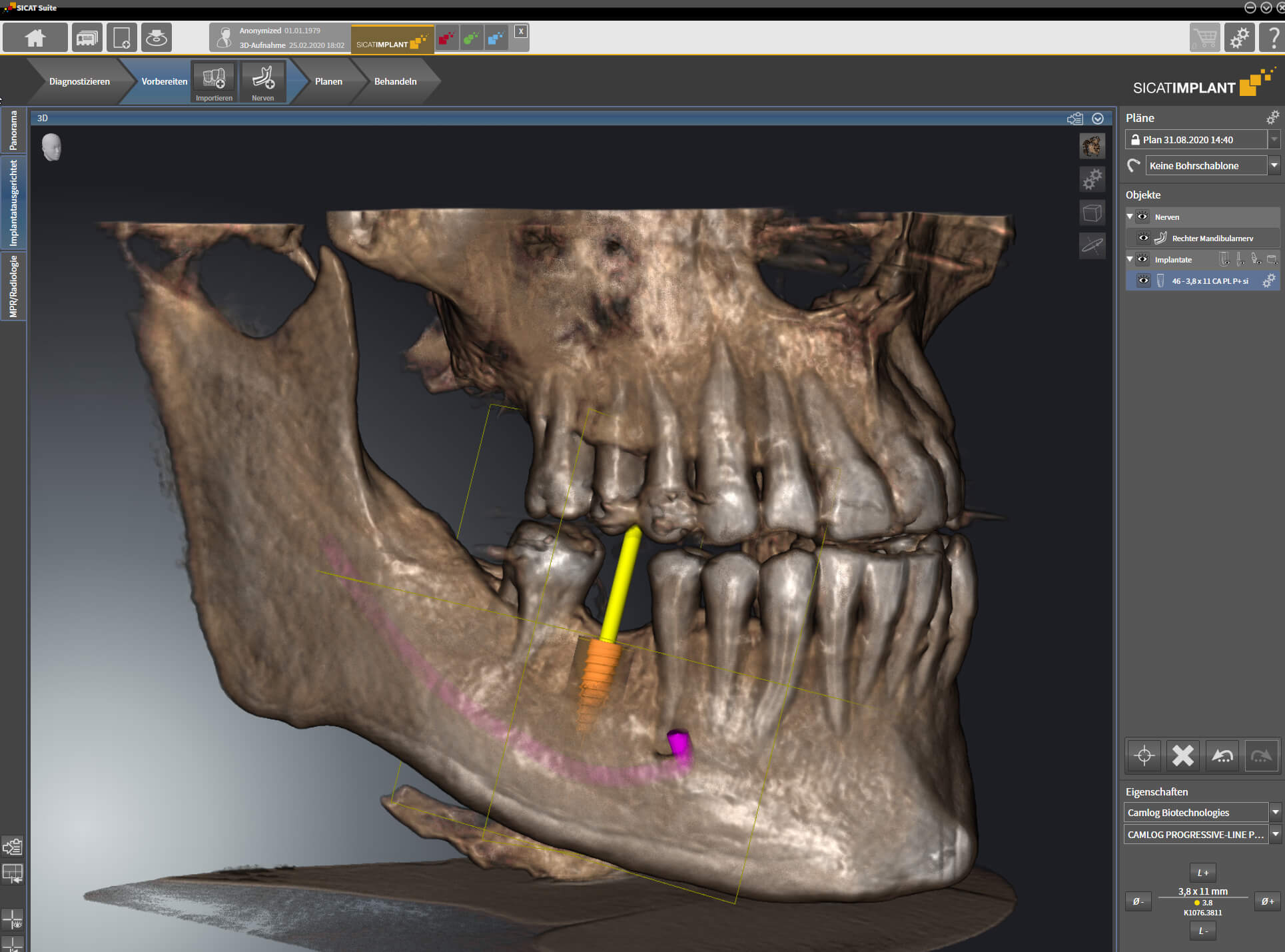 Endodontic planning - uncomplicated and precise
With the additional software SICAT Endo, endodontic treatments can be planned and visualised for the patient. In addition, the software enables an exact determination of the working length, a straight-line access planning and offers the possibility to support the clinical implementation with a drill template.
VistaSoft Trace
Thanks to innovative and extensive artificial intelligence, cephalometric analyses can be carried out within a few seconds with VistaSoft Trace. This user-friendly software add-on identifies reference points and soft tissue silhouettes automatically and plots them on the X-ray image. VistaSoft Trace also enables the images from the various stages of treatment to be overlaid for tracking and monitoring from start to finish. The software also supports the simulation and display of treatments based on planning data, so that the potential success of a course of treatment can be illustrated even before work gets under way.

DÜRR DENTAL

cooperates with 3Shape

VistaSoft now has an interface to 3Shape Unite from version VistaSoft 3.0.20. Practices using a TRIOS intraoral scanner can now work with 3shape Unite from VistaSoft. The cooperation between DÜRR DENTAL and 3Shape offers an intuitive workflow for patient management and connects trusted solutions with users every day.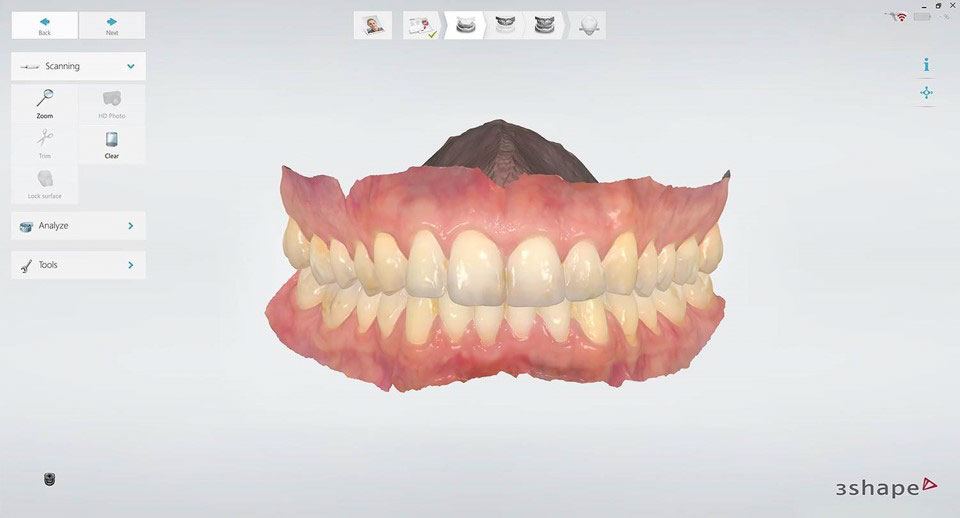 One-click principle
All main functions are only a mouse click away
Intuitive
Self-explanatory icons for intuitive operation
Efficient
Ergonomic design with simple and well thought-out workflows for efficient operation
Safe
Changes are saved automatically
VistaSoft Cloud
The VistaSoft Cloud offers the perfect platform for sharing X-ray images simply, cost-effectively and efficiently with colleagues, laboratories, clinics or patients. With just one click and the corresponding e-mail address you can share and comment on images in the cloud. It could not be more efficient. The image data is transmitted via the VistaSoft Cloud in accordance with the requirements of the General Data Protection Regulation (GDPR).
Software
DÜRR DENTAL

Imaging iPad app

The DÜRR DENTAL Imaging iPad app can be used to send scanning tasks or X-ray tasks directly from an iPad to VistaSoft . You can also view X-ray images and camera images together with your patients on the iPad, which helps patients understand the treatment they are receiving.

More
DBSWIN
DBSWIN transforms the diagnostic workstation into a digital image centre for the surgery – for solo practices and for a joint practice or clinic. The constant adaptation of DBSWIN to shifting standards keeps users up to date – including with regard to the interface with surgery management. The sharing of patient information, image data and accounting information, for instance, is already possible with VDDS Media levels 5 and 6. Secure and speedy saving of data in individual surgeries or clinics is facilitated by an SQL database.