Compressed air
Silver Airline – dental compressors for the most exacting requirements of your dental practice
Powerful, reliable – and far too nice to be banished to the basement!
DÜRR DENTAL compressors combine top quality with robustness and durability and are almost completely maintenance-free. They supply the compressed air you need for dental treatments in your practice – air that needs to meet strict hygiene requirements. DÜRR DENTAL introduced drying systems for their compressed air units back in 1965 and set the global benchmark in dental-medical technology as they became the first manufacturer in the world not to use oil-based lubrication. Following this tradition, we are constantly developing our oil-free dental compressors for dental practices, dental laboratories and clinics.
Membrane drying unit
Not only ensures that the power of the compressor is always available, but also enables a continuous supply of dry compressed air even in continuous operation.
Durable linear piston technology
Special materials are used for the piston and cylinder to replace conventional oil-based lubrication.
Tandem concept – a solution with the option for more
The Tandem line of compressors from DÜRR DENTAL offers particularly high operational reliability and is completely future-proof. The possibility of modular upgrades to the compressed air compressors makes them a flexible solution with the option for more power. A clear advantage of our high-performance dental compressors, as they can grow with the requirements of your practice – according to your needs and field.
Sustainability with the Silver Airline compressors
The possibility of modular upgrades makes our Silver Airline compressors in the tandem variant a flexible and sustainable solution with the option of more. When you expand your practice, you add a unit and thus double the power reserves. An intelligent control system also enables parallel operation of two tandem compressors on one compressed air line, which further increases the power reserves.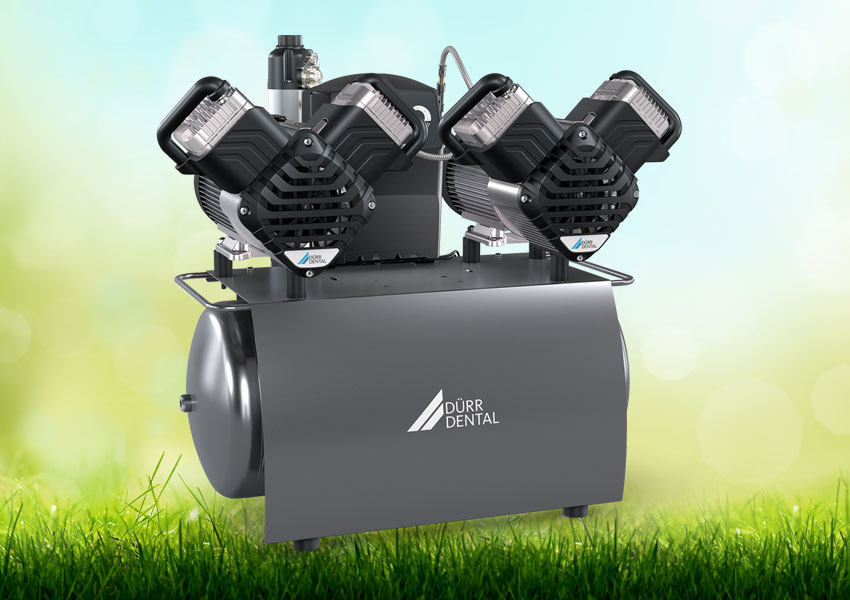 Filter change made easy - With VistaSoft Monitor
Changing the compressor filter regularly is essential for the longevity of your products. To keep your DÜRR DENTAL compressor in top condition, the VistaSoft Monitor IoT solution is at your side: reminders and simple, transparent traceability of inspections carried out on one device, whether via PC or mobile. Interested in a digital, networked practice?
Continuous
Continuous supply of dry and hygienic air, flavourless and odourless, for continuous operation
Reliable
Maximised reliability and operational safety for many years thanks to the use of maintenance-free components
Safe
Increased operational safety thanks to early warning messages and automatic maintenance reminders
Flexible
User-friendly adjustment of device settings to the conditions in the practice
Compressors for CAD/CAM milling and grinding systems
When it comes to a reliable and continuous supply of compressed air, milling and grinding machines place particularly tough demands on compressors. A constant flow of oil-free and dry compressed air is the top priority – after all, milling machines never take a break during operation. The duty cycle of a compressor unit when running a milling machine far exceeds the duty cycle of normal dental operations. The sophisticated concept of DÜRR DENTAL meets all of these demands and is designed for continuous operation. The high-quality system components ensure maximum precision and smooth running. As a result, the compressor operates more quietly – and it also lasts a whole lot longer.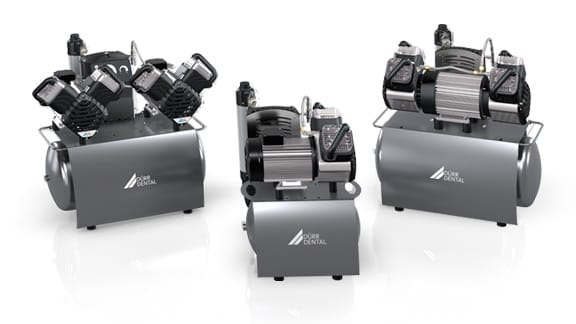 2+1 Product registration
Register product now and get 1 year warranty extra
New DÜRR DENTAL product? Use the coffee break to register your new product quickly and easily. On our service page you will find all the benefits and information on product registration.
Zur Produktregistrierung
You may be interested in these as well: