Imaging
VistaVox S and VistaVox S Ceph: taking 3D diagnostics to the next level
VistaVox S combines diagnostic reliability with efficiency and lower radiation exposure
Ideal imaging volume, easy positioning, high image quality: VistaVox S represents a milestone in the field of 3D X-ray systems. Thanks to its unique technology, the 3D images generated with this system cover everything you need for reliable diagnoses, well-founded treatment decisions and convincing patient communication. The S-Pan technology of the VistaVox S generates pinpoint accurate OPG images in best DÜRR DENTAL quality.
VistaVox S offers an ideal 3D volume that is adapted to the jaw arch
The special feature of VistaVox S is that its imaging volume is based on the human anatomy, representing precisely the area you need for diagnostics in the dental region.

Find out more
VistaSoft 3D
VistaSoft 3D offers different views for your diagnosis of CBCT images: pano views, transversal layer images (TSA) and multiplanar reconstruction (MPR). Naturally, the VistaVox system includes VistaSoft as an unlimited network licence and a floating licence for three 3D workstations.

Find out more

S-Pan technology: extremely sharp images for even more reliable diagnostics
With S-Pan technology, the image regions that best correspond to the actual patient anatomy are automatically selected from a large number of parallel layers. The result is an image of impressive clarity, in which you will be able to immediately and effortlessly locate all anatomically relevant structures. Since the reconstruction is aligned to the actual position of the bite, incorrect positioning is compensated for to a certain extent. This saves time for the surgery and prevents the patient from having to have repeat images taken.

Find out more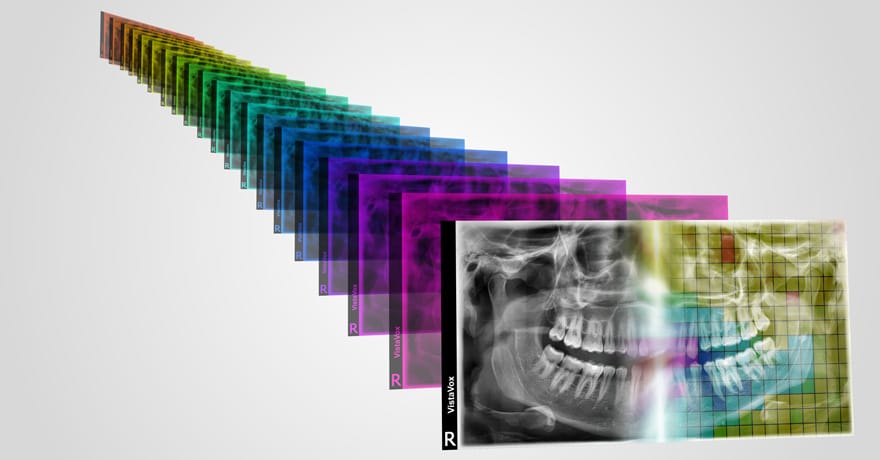 VistaVox S Ceph: 3-in-1 X-ray system
In addition to the various CBCT volumes and the 17 panoramic programs, VistaVox S Ceph also offers six modes for all types of cephalometric exposures. The very short scan time starting at just 1.9 seconds helps to avoid motion artefacts and to reduce the radiation dose. The modern high-sensitivity CsI sensors enable excellent image quality.

Find out more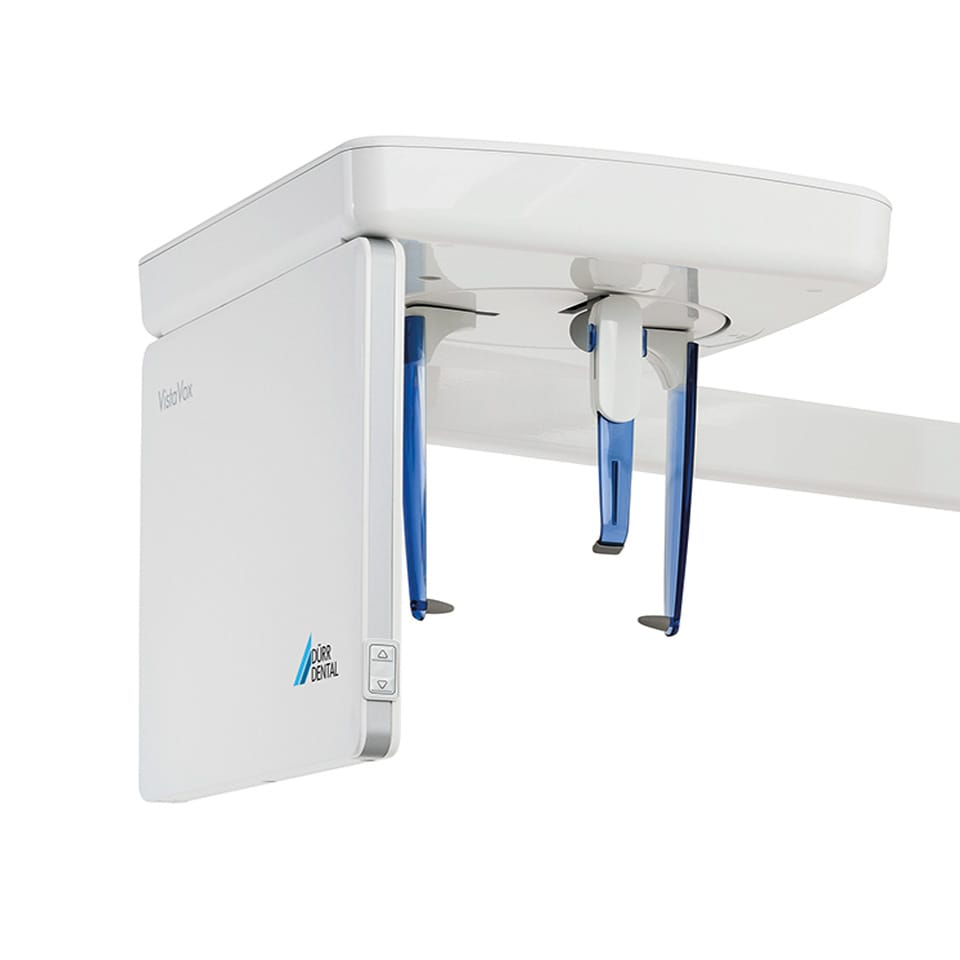 3D metal artefact reduction (MAR)
Metal artefacts are a real challenge for 3D imaging. In the three-dimensional reconstruction, radiopaque objects generate shadows (areas that are displayed completely white) and streaks. Particularly on patients with metal prosthetics, these artefacts make diagnostic work much more difficult. VistaVox MAR eliminates these metal artefacts automatically with the aid of state-of-the-art algorithms and is able to present anatomical structures much better as a result.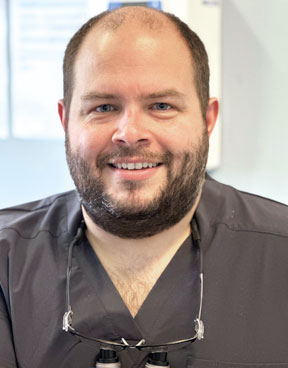 Like many dental practices, Monks Brook Dental is committed to providing the best possible care to its patients while supporting sustainable dentistry practices. We have a VistaVox S, which is an amazing imaging system from Dürr Dental, allowing us to provide OPGs and CBCT diagnostic imaging within the practice. The equipment is great with reliable software that gives us the information we need to build good relationships with our patients and meet our need to be a greener practice.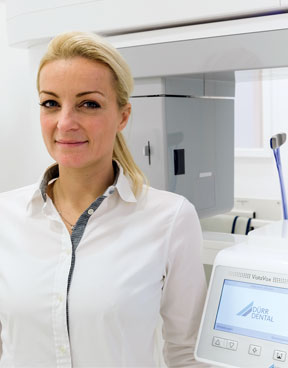 VistaVox S is a space-saving, user-friendly hybrid X-ray system that is universally applicable; there are no technical restrictions when it comes to day-to-day diagnostics and planning in the practice. The unit boasts excellent functionality, handling and design. Our patients like it too – they describe the X-ray procedure as a pleasant 'technical experience'. The fact that it is a quality product and is made in Germany by a family company whose employees are enthusiastic about their equipment is a major plus for us!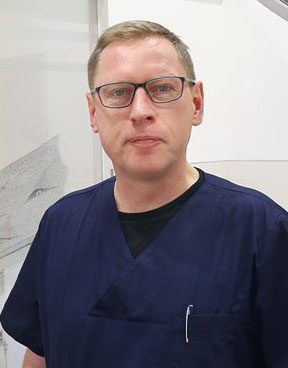 VistaVox is the best unit for general dentistry as it can be used for all kinds of applications. We first used it in our practice in 2018, and we were immediately impressed by its easy handling and straightforward patient positioning. The operating sequence was very logical, the settings on the unit display were self-explanatory and the whole team liked the overall feel of the unit.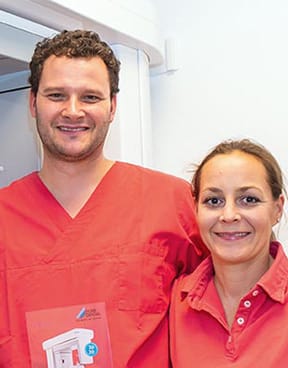 The VistaVox S is a hybrid X-ray unit that offers outstanding image quality for both OPGs and CBCTs. The jaw-shaped imaging volume includes the rear molars but leaves out the spinal column. This means dentists can see precisely the region they need in order to provide a diagnosis. Our whole team likes working with it because it is easy to use and the software is very user-friendly.
Ideal FoV
Ideal 3D imaging volume matched to the jaw arch (Ø 130 x 85 mm)
Exceptional image quality
In 2D and 3D thanks to the high-resolution CsI sensor with a pixel size of 49.5 μm
Ergonomic and intuitive
Modern, ergonomic VistaSoftimage processing software
Fast
Time-saving cephalometric projections from 1.9 seconds at a low dose
3D images with exceptional image quality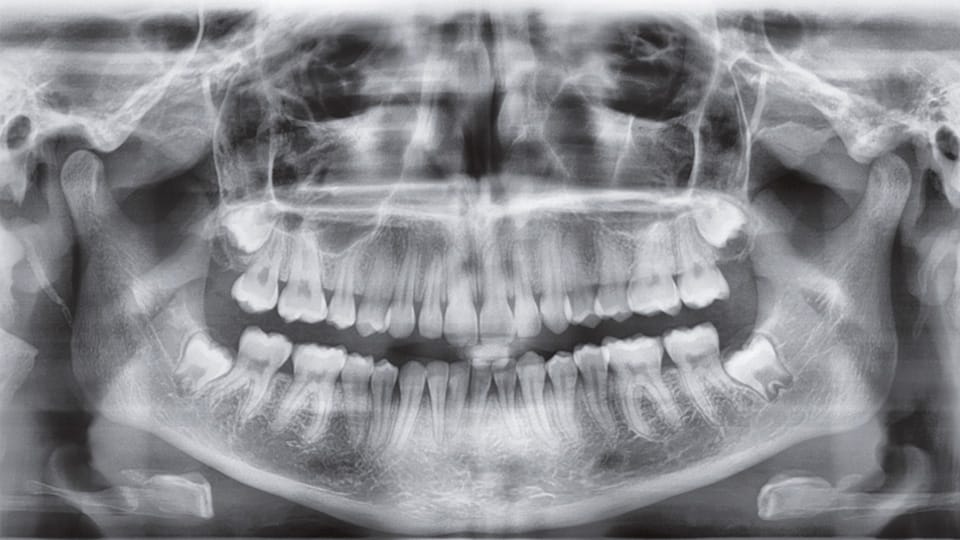 Go digital
DÜRR DENTAL

imaging software

The DÜRR DENTAL imaging software has been used in dental surgeries around the world for more than 20 years and is now available in 20 languages. The imaging software offers the highest levels of ease of use, compatibility and efficiency. All digital DÜRR DENTAL diagnostics systems are controlled with the DÜRR DENTAL imaging software. At the same time, you are supported by the integrated diagnostic tools.

More
2+1 Product registration
Register product now and get 1 year warranty extra
New DÜRR DENTAL product? Use the coffee break to register your new product quickly and easily. On our service page you will find all the benefits and information on product registration.
Zur Produktregistrierung
Artificial Intelligence
VistaSoft AI included
With the VistaSoft package you will gain access to powerful AI features that will make your day-to-day work noticeably more effective. In combination with VistaScan IQ image plates, Vistasoft AI enables automatic checking of every X-ray image to detect deterioration in image quality over time – the software will recommend replacement of the image plate where necessary, so that consistently high image quality is ensured.