Accessories
VistaScan Image Plates – the Original
VistaScan Image Plates
Image plates from DÜRR DENTAL permit outstanding images and thus accurate diagnoses. With our extensive size portfolio (S0 – S4) compared to other intraoral X-ray systems, you always have the correct format for every indication. For decades, we have provided maximum user and patient comfort with our VistaScan image plates.
VistaScan IQ Image Plate
With the new VistaScan generation with RFID function and VistaSoft AI, the VistaScan IQ image plate offers you comprehensive AI-supported functions. This makes everyday use in your practice much easier, increases user comfort and ensures consistently high image quality.
VistaScan IQ Image Plate – your advantages at a glance
VistaScan Image Plate Plus
The VistaScan Image Plate Plus, tested and proved for many years, is the reliable companion for all VistaScan without RFID function. In contrast to other image-receiver technologies, the 5 different formats offer the right solution for all indications. In this way, the VistaScan Image Plate Plus not only ensures high patient acceptance, but also satisfied users.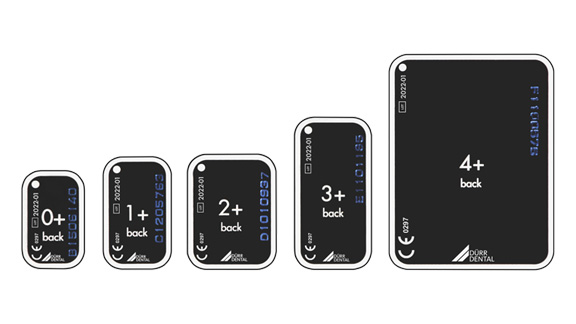 VistaScan Image Plate Plus – your advantages at a glance
Would you like to know for which indications the different image plate sizes are perfectly suited?
Possible uses for image plates
Lateral-tooth or front-tooth images for children.
You may be interested in these as well: