Hygiene – special areas
Hygiene power to give your suction system an extra-long life
Easy to work with – highly effective to use
DÜRR DENTAL invented suction system disinfection back in 1965 with Orotol®. Today, Orotol® plus is the world's most widely used disinfectant. The reasons for this are obvious enough: it is easy to use, suitable for a wide range of tasks and highly compatible with other materials. The success of Orotol® plus is based on our long-standing experience with suction systems. Trust the expertise and strength of the market leader in surgery hygiene.
Suction system and spittoon
Perfectly coordinated cleaning and disinfection products for eliminating germs from the suction system and thoroughly cleaning spittoons with spotless results.
Impressions and dentistry work
Impressions and dental workpieces that have been in the oral cavity of the patient are always contaminated with saliva, and frequently also with blood and secretions. This urgently calls for safe and reliable disinfection and cleaning. DÜRR DENTAL has the perfect system solution for this as well.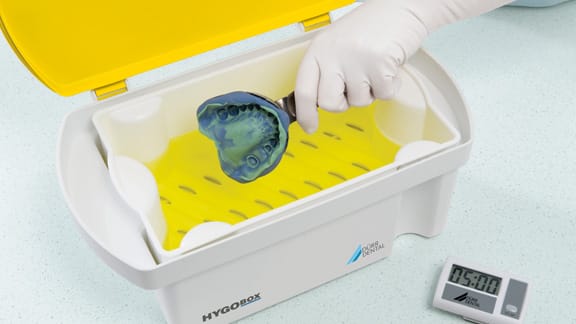 Safe
Broad range of effectiveness and high cleaning performance
High value retention
Certified material compatibility – recommended by leading equipment manufacturers
Convenient
Easy and efficient to use
Durability
Coordinated system – the perfect symbiosis of technology and chemistry
Orotol® plus and MD 555 cleaner
You cannot buy aspirations or standards. But quality – that is a different matter.
Orotol® plus and MD 555 cleaner! The perfectly coordinated dynamic duo for cleaning and disinfecting your suction system gently yet highly effectively. Put your trust in our outstanding quality – Made in Germany!
Sturdy and robust transport and disinfection box
You may be interested in these as well: