DENTAL CARE
MyLunos Duo® – table-top unit for ultrasound and powder jet treatments
The all-rounder for all purposes
MyLunos Duo® combines two of the most important treatment methods for a prophylaxis session: powder jet treatment and ultrasound treatment. The combined unit enables complete prophylaxis and periodontal treatment using just a single device, with highly flexible application tailored to the needs of the individual patient – ranging from ultrasonic removal of supragingival and subgingival calculus to the removal of discolouration and biofilm with the powder jet.
Design tailored to the application
During a prophylaxis session or periodontal treatment, you can use the functions Supra and Perio to switch as required between supragingival and subgingival powder jet application. Here, two different Lunos® Prophy Powders can be easily interchanged. In addition, if required it is also possible to switch during treatment from powder jet (polishing) to ultrasound. Blockage protection: A continuous airflow reliably prevents any deposits from forming in the tubing system and prevents blockage of the device.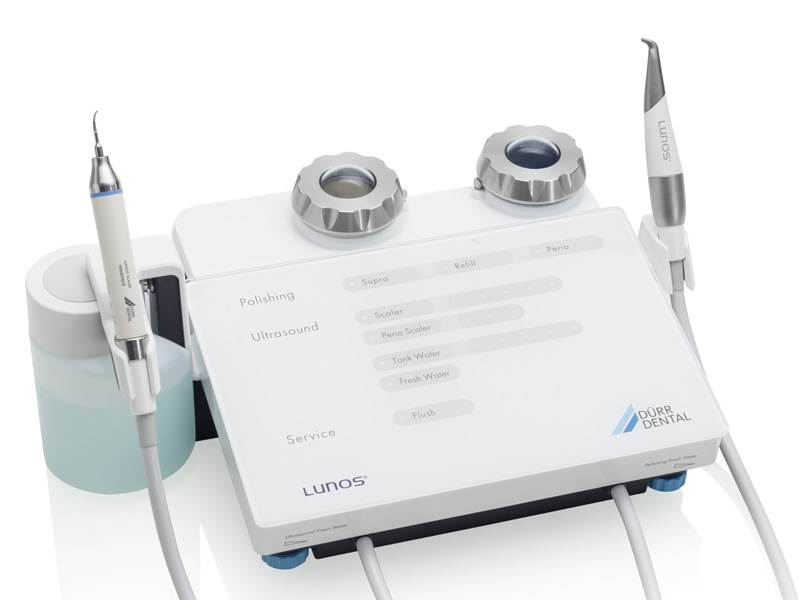 Clearly laid out and hygienic display
All functions can be used quickly and intuitively, even during use. Thanks to its flat surface, the entire unit can be cleaned and disinfected quickly and easily. We recommend our FD 322 premium wipes for this from DÜRR DENTAL System Hygiene. The ID 213 Instrument disinfection system also cleans and disinfects all components on the device.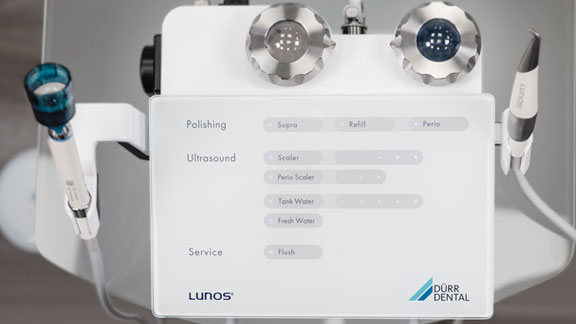 Flexible water system
MyLunos Duo® has a fixed water connection for both application areas – polishing and ultrasound – as well as an attachable water tank with a capacity of 500 ml for ultrasound applications. The appropriate water supply for ultrasound applications can be chosen to suit the requirements. The water is heated to a pleasant temperature for the patient.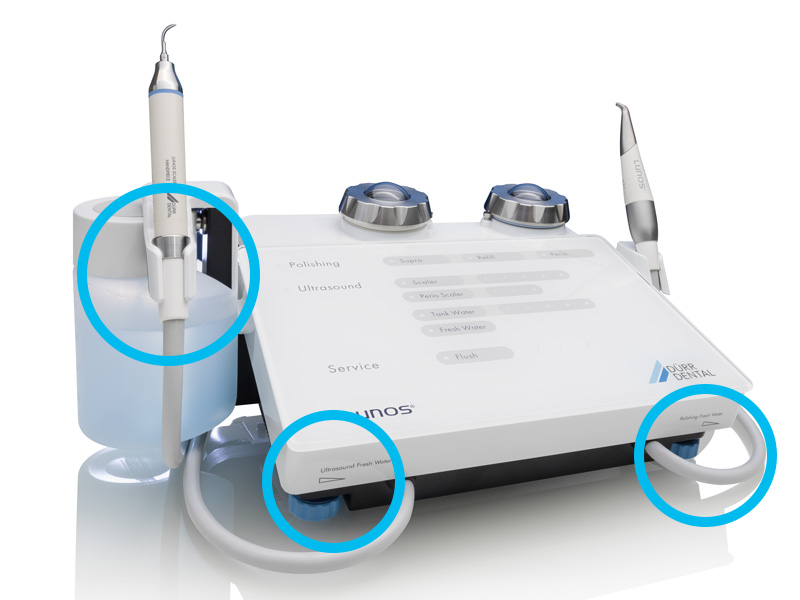 360° foot switch
All the functions of the application are activated via the modern foot switch. Thanks to its round shape and compact size it is easy to position perfectly on the floor, where it can be operated from all sides for maximum flexibility.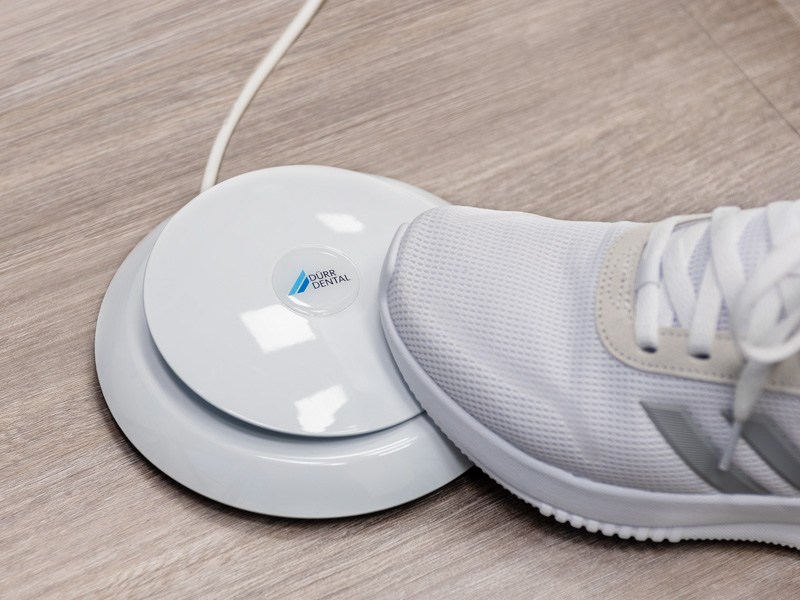 Needs-oriented
One device, one solution – for every patient case and for every treatment scenario
Efficient
Multifunctional application options and high cleaning power down to the root area
Compatible
The Lunos® nozzle system is compatible with the MyLunosLunos® powder jet handpiece as well as the MyLunos Duo® combination device
Service-oriented
Our promise: the best service – for the highest customer satisfaction
Service
Reliable service concept
Whether providing information and help in the event of technical problems or simply fielding questions on correct application, maintenance and care for MyLunos Duo®– our service hotline and our service technicians and medical product advisers in the field are always on hand to offer advice or active support page.
Our service promise: If a unit fails, we will provide you with a loan unit within 48 h – keeping treatment cancellations to a bare minimum for you.
More
Interchangeable SUPRA and PERIO nozzles
Two different nozzles are available for supragingival and subgingival treatments with the MyLunos Duo® powder jet handpiece. Each can be rotated through 360° to enable easy access even in difficult to reach areas in the mouth of the patient. The two nozzles can be swapped quickly and easily during the treatment, enabling highly efficient working. Because the nozzles are uniquely compatible with the mobile MyLunos PWS handpiece, the accessories can be used in a flexible manner.
Prophy Powder Gentle Clean and Perio Combi
The Lunos® Prophy Powders Gentle Clean and Perio Combi are available for powder jet treatments. The innovative abrasive agent Trehalose (disaccharide) is highly water-soluble. It tastes pleasingly sweet yet is not cariogenic. It leaves no powder residues in the patient's mouth and protects the oral mucosa. And on top of all that, it even protects the suction unit. Gentle Clean is available in the flavours Neutral, Spearmint, Orange and Wild Berry, and Perio Combi is available in the flavour Neutral.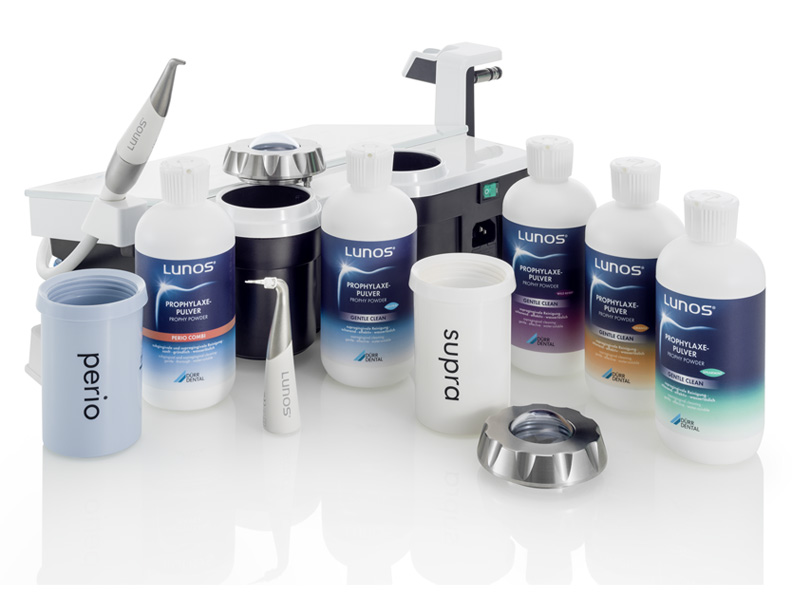 Scaler handpiece* with LED light
Particularly lightweight and handy Scaler handpiece with LED light for optimum illumination and view of the treatment area in the mouth of the patient. We also have a large number of instruments available for needs-appropriate treatment. Depending on the instrument used, the corresponding power setting can easily be selected via the touchscreen display.

*The MyLunos Duo® Scaler handpiece and Scaler instruments are not compatible with the Vector® system from Dürr Dental.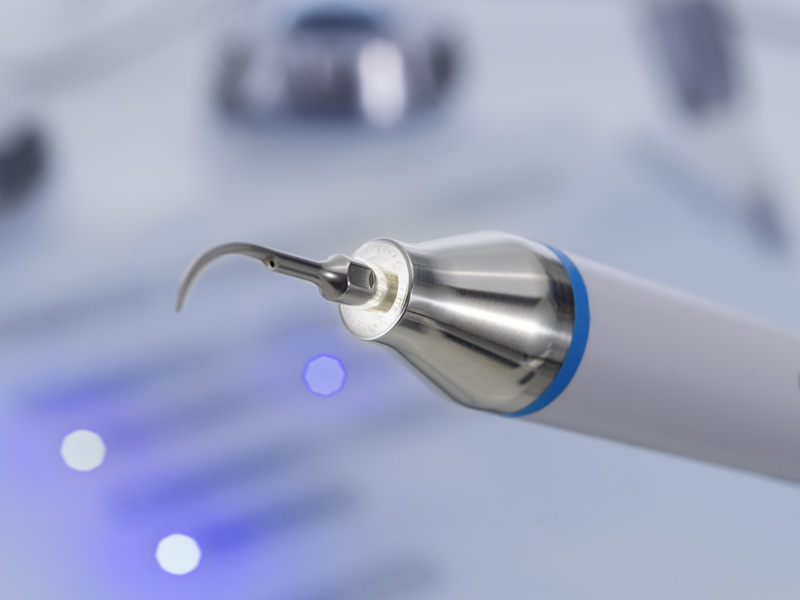 Scaler instruments*
MyLunos Duo® offers a great choice of different Scaler instruments to enable needs-appropriate use of the system in a wide range of treatment scenarios and patient cases. The instruments are made of surgical stainless steel, and the IC1 attachment for implant cleaning is made of 100% PEEK (a high-tech plastic). All instruments and attachments are suitable for full cleaning and disinfection.

*The MyLunos Duo® Scaler handpiece and Scaler instruments are not compatible with the Vector® system from Dürr Dental.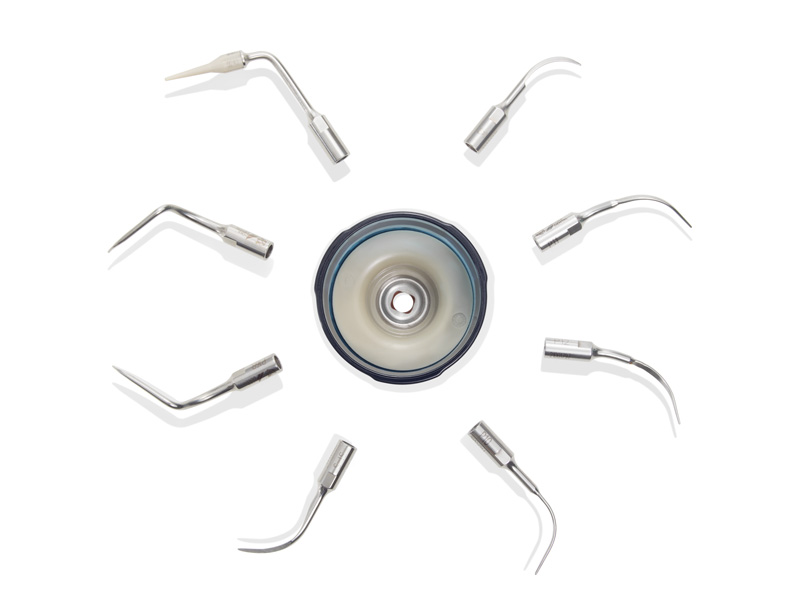 Torque wrenches*
Each instrument is supplied in its own torque wrench to enable it to be screwed directly and reliably onto the Scaler handpiece. The torque wrench can be fully cleaned and disinfected.

*The MyLunos Duo® Scaler handpiece and Scaler instruments are not compatible with the Vector® system from Dürr Dental.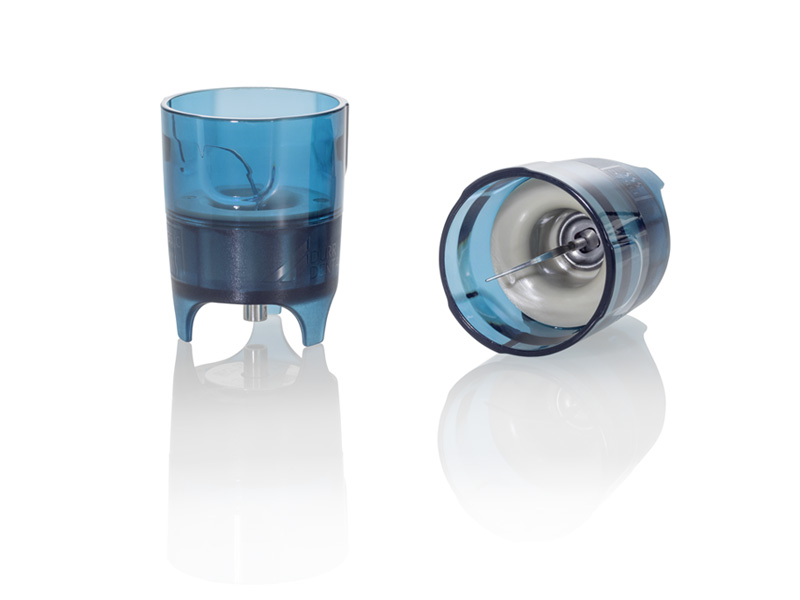 Ultrasound instruments contained in the MyLunos Duo® sales package
MyLunos Duo® Tool Card
With the aid of the MyLunos Duo® Tool Card, it is very easy to check the wear of individual instruments. If the instrument tip does not reach the magenta line then the instrument must be replaced with a new one. Please feel free to download the PDF here, which can be printed in original size.

Download now